Welcome to...
Happy Belly's Italian Ice Factory flavor page.
Check this page daily to view our
flavors of the day and any special items.
View our menu with pricing
http://www.dsmenu.com/uph/2609
Try our NEW "Iced" Tea
Peach or Mango Tea with our choice of Italian Ice
Next week ~ look for our new
LEMONADE DRINKS to arrive.
Bubble Gum
Watermelon ~ What-a-Melon
Strawberry Lemonade
Blue Blast
Strawberry
Mango
Sour Apple
Peach
Cherry
Coconut Creme
Cotton Candy
Sugar-Free Berry Pomegranate
Vanilla Frozen Custard
Chocolate Frozen Custard
Swirl Frozen Custard
DOLE Pineapple Whip
Non-Dairy Red Velvet
Due to their popularity, flavors listed above
may run out & are replaced with new flavors.
We try to keep the website up to date.
If you have any questions about a particular flavor,
please call the store 318-868-1360
Large orders can be taken over the phone,
but must be pre-paid via credit card.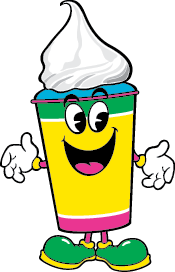 ---
---